by David Smith, Gonzalo Lizarralde, Lisa Bornstein, Benjamin Herazo, Trent Bonsall, and Steffen Lajoie*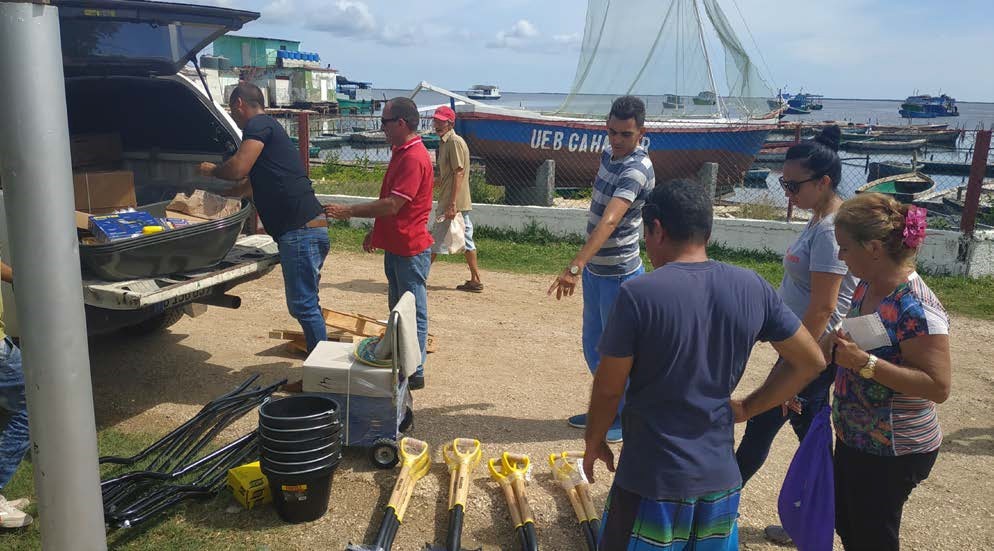 What We Wanted To Know
– How do local leaders and residents formulate and execute bottom-up initiatives to deal with climate change effects in informal settings?
– How do local rituals, practices, and existing (or missing) urban systems and regulations influence bottom-up initiatives?
– How does local leadership emerge in informal settings? How do stakeholder collaboration and community engagement take place throughout the implementation process?
– How can impact be amplified, ideas transferred across contexts, and solutions replicated and integrated into policy?
In this online publication, we draw lessons from ADAPTO, one of the most ambitious action-research projects conducted to date on climate change action in informal settings in Latin America and the Caribbean (See the final report here). The artefacts of disaster risk reduction reveal the interplay between institutions, places, beliefs, and behaviors that emerged during the implementation of 22 bottom-up initiatives aimed at reducing risk. The profiles presented in this publication explain the processes that was used to select, finance, support, execute, and monitor these initiatives in Carahatas (Cuba), Yumbo (Colombia), Salgar (Colombia), and Concepción (Chile). Each profile presents the initiative's objective, implementation process, results, lessons learned, and replicability opportunities. Finally, we draw lessons that may be relevant to local leaders, residents, development practitioners, policymakers, and researchers.
How We Worked
Our team was composed of more than 20 researchers from the disciplines of architecture, urban planning, engineering, social work, and social geography—many of whom are co-editors and authors of this online publication. The researchers are based in four Latin American universities (Universidad Central Marta Abreu de las Villas in Cuba, Pontificia Universidad Javeriana and Universidad del Valle in Colombia, and Universidad del Bío-Bío in Chile) and in three Canadian universities (Université de Montréal, McGill University, and Concordia University). The team also included senior officers from Corporación Antioquia Presente, a Colombian NGO focused on disaster response activities in the region.
The team and local leaders intervened in four localities: Carahatas in Cuba, Yumbo and Salgar in Colombia, and Concepción in Chile. The four areas present different degrees of informality in housing, infrastructure, livelihoods, and access to services. Most residents of these localities have experienced firsthand the impact of natural hazards. They also face intertwined factors of vulnerability—such as poverty, unemployment, and food insecurity—that exacerbate disaster impacts and hinder reconstruction processes. Local governments in the four localities face significant dilemmas in implementing climate and risk reduction policy, since they must find a balance between economic development, preserving natural ecosystems, protecting of residents against hazards, and respecting their traditions. There are differences in the four localities in terms of government structures and institutional provision of welfare services. Because of these differences, it is possible to analyze the impact of the governance context on bottom-up initiatives.
Even before the project was launched, our team engaged with local actors and institutions. We also decided not to be passive observers of the phenomena under investigation, but to serve as active agents in the transformation process. By working closely with local leaders, we were better able to follow their activities, gain their trust, and understand the dynamics of implementation from within. For four years, we documented the development of 22 initiatives in informal settings. We discovered how local leaders seize opportunities and prioritize different challenges. We also came to appreciate the factors that lead to success and failure.
Our degree of influence on the implementation process varied. In what we called Type A or academically partnered initiatives, we played a strong supporting role. Researchers and students helped leaders and residents in the design, planning, building, and management of activities. Our team greatly influenced these initiatives, which benefitted from direct action research. In contrast, for Type B or locally driven initiatives, the research team's role and influence were more modest. These initiatives were led and coordinated by local leaders, with academics playing only a monitoring role in the initiative's development.
After a call for proposals in each informal settlement, a scientific committee selected the most pertinent initiatives. The committee prioritized initiatives led by women, but also selected initiatives with mixed or male leadership. Each initiative received CAN $4,000 and, eventually, they all leveraged additional resources and funding from local donors, private companies, NGOs, funding agencies, and governments. In many cases, the funding we provided corresponded to less than 25% of the resources required to complete the initiatives. In all cases, researchers provided leaders and participants with training and documentation on various topics, such as climate change trends, leadership, water management, hazard-proof construction, and sustainable gardening practices. In many cases, they also facilitated networking among local leaders, municipal officers, and other relevant stakeholders.
*Cite as: Smith, David et al., (2021). Our Action Research Project. In Artefacts of Disaster Risk Reduction: Community-based responses to climate change in Latin America and the Caribbean. Smith, David; Herazo, Benjamin; Lizarralde, Gonzalo (editors). Montreal: Université de Montréal. Accessible here: https://artefacts.umontreal.ca/